Cozy Wintersday Mounts Pack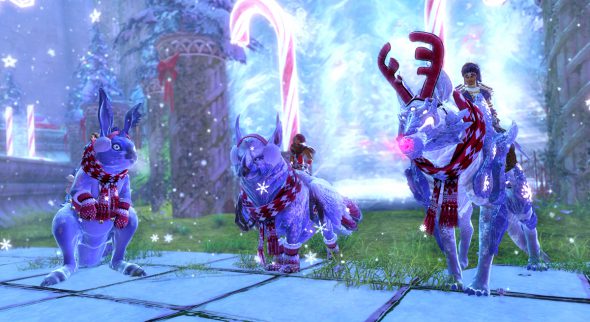 Protect your fuzzy, scaly, sandy, feathery, and finned friends from winter's chill with this pack of five extremely fashionable skins. All mittens have been customfitted to allow unrestricted use of claws.
Glacial Wintersday Chest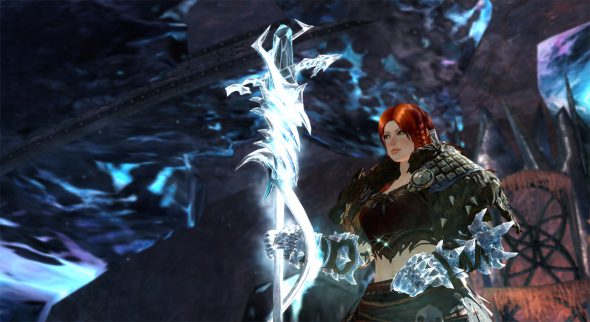 Black Lion Chests contain new items for the holiday season! The Infinirarium Glider and Candelabra Staff have returned as exclusive drops, along with the new Svanir Gauntlets skin and Mini Cozy Wintersday Mounts Pack. This update's guaranteed item is the Evon Gnashblade Wintersday Gift, full of assorted festive and valuable presents.
Glacial Weapon Skins
Freeze your enemies in their tracks with the icy, ethereal Glacial Weapon Collection, newly available from Black Lion Weapons Specialists for one Black Lion Claim Ticket per skin.
Returning Items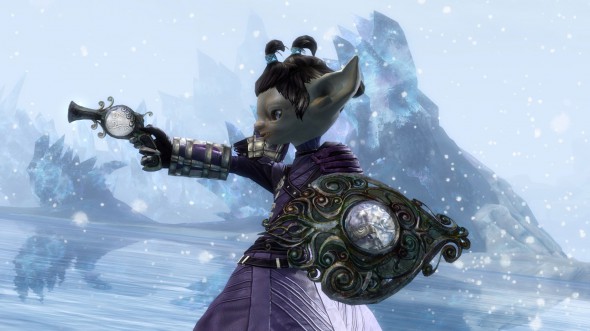 Black Lion Weapons Specialists are offering the Wintersday Weapon Collection for five Black Lion Claim Tickets per skin, and you can choose your favorite toys* from a Black Lion Miniature Claim Ticket vendor's Many Merry Minis tab.

The following items are back in stock for a limited time starting this week:

Festive Hat – Available today

Royal Terrace Permanent Pass – Available today, 30% off

Ice Encasement Outfit – Returning December 15

Stag Helm Skin – Returning December 15, 30% off
*Mini Festive Lord Faren and Mini Angry Wintersday Gift may contain small or hazardous parts and are not suitable for children.